The third Tbilisi Jazz Festival was held in Tbilisi State Philharmonic Concert Hall 26.10-02.11. 1989 and was organized by Georgian State Philharmonic, "Gosconcert", TV and Radio State Committee GSSR, Tbilisi Record Studio of All-Union Firm "Melodia", Bo Johnson Concert & Promotion (SWE). It was the first time in the history of Soviet Union when artists from capitalistic countries participated. There were over 140 artists from America, Europe and Asia: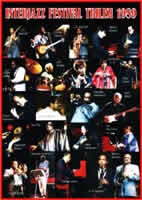 Freddie Hubbard Quintet (USA)
– Don Broaden, Benny Green, Jeff Chambers, Carl Allen
Jimmy Smith Quartet (USA)
– Terry Evans, Frank Wilson, Rick Woodard,
Barbara Morrison
Luther Allison Blues Band (USA)
– Suleiman Hakim, Vincent Duane, Michelle Kerras, Peter Giron, Bernard Ellison
Art Blakey Jazz Messengers (USA)
– Brian Lynch, Javon Jackson, Frank Lassie, Jeff Kizer, Essit Okun Essit, Jackie McLean, Benny Golson, Curtis Fuller, Dave Barlow
Sun Ra Universal Archestra (USA)
– Marshall Allen, Artur Butt, Sessile Brooks, John Gilmore, Tyron Hill, James Jackson, Nelson Santos, Noel Scott, Earl Smith, Jun Tyson, Jose Huares, Jose Machado.
Mingus Dynasty (USA)
– George Adams, Jack Warlat, John Higgs, Peter Washington, Victor Lewis.
Leni Stern Group (USA)
– Wayne Qvartz, Poll Sokolov, Zaharie Danzinger.
Les McCenn & Eddie Harris Quartet (USA)
+ Curtis Robertson - B.
Norman Farington - DR
Kenny Drew & Niels-Henning Ørsted Pedersen (USA-DEN)
Pirrpauke Band (FIN)
Young Power (POL)
Fon Brublevska Band (POL)
Orbits (GEO-RUS)
– Tamaz Kurashvili, Michael Okun, Vladimer Epaneshnikov
Deborah Brown (USA)
Evan Svenson (SWE)
Zbignev Namislovski (POL)
German Lukianov Ensemble "Kadans" (RUS)
Igor Brill Ensemble (RUS)
Leonid Tashko (UKR)
Aziza Mustafa-Zade (AZR)
Stanislav Soika (RUS)
Blues Mobil Band (GEO) – V.Mogeladze, V.Pailodze, Z.Kakabadze, K.Tskitishvili, M.Manasheridze
Moscow Saxophone Quintet (RUS)
Alexander Kiladze Jazz Choral (GEO)
Jazz Group "Iveria" (GEO) – T.Kvitelashvili, G.Chanturia.